"You have to treat your employees like customers." — Herb Kelleher
Southwest Pilots and their passengers can clearly see that Herb's ethos is missing from Southwest Airlines today. Herb would be unimpressed with the state of his legendary airline, which once set the bar for employee satisfaction and was second to none when it came to customer service.  
While SWAPA hopes that Southwest Airlines leadership will hear our overwhelming call to action, hope isn't a strategy. We are prepared to act. But we know that creates some concerns for you, so we'd like to address them. 
What about my flights?
A strike is not something any of us wants to happen. You don't want your travel interrupted; you deserve the best for your hard-earned travel dollars. And we don't want to shut down the airline that we love and that you have built a relationship with over the years. 
However, Southwest Airlines has taken the same path in dealing with its employees that it has taken with caring for you, its customers. Southwest leadership has failed repeatedly over the last decade to sufficiently upgrade our airline's technology and operational processes. Those shortcomings are now the burden of its front-line employees and, unfortunately, you too. We've all seen it clearly in their multiple operational failures over the past few years. It's simply unacceptable.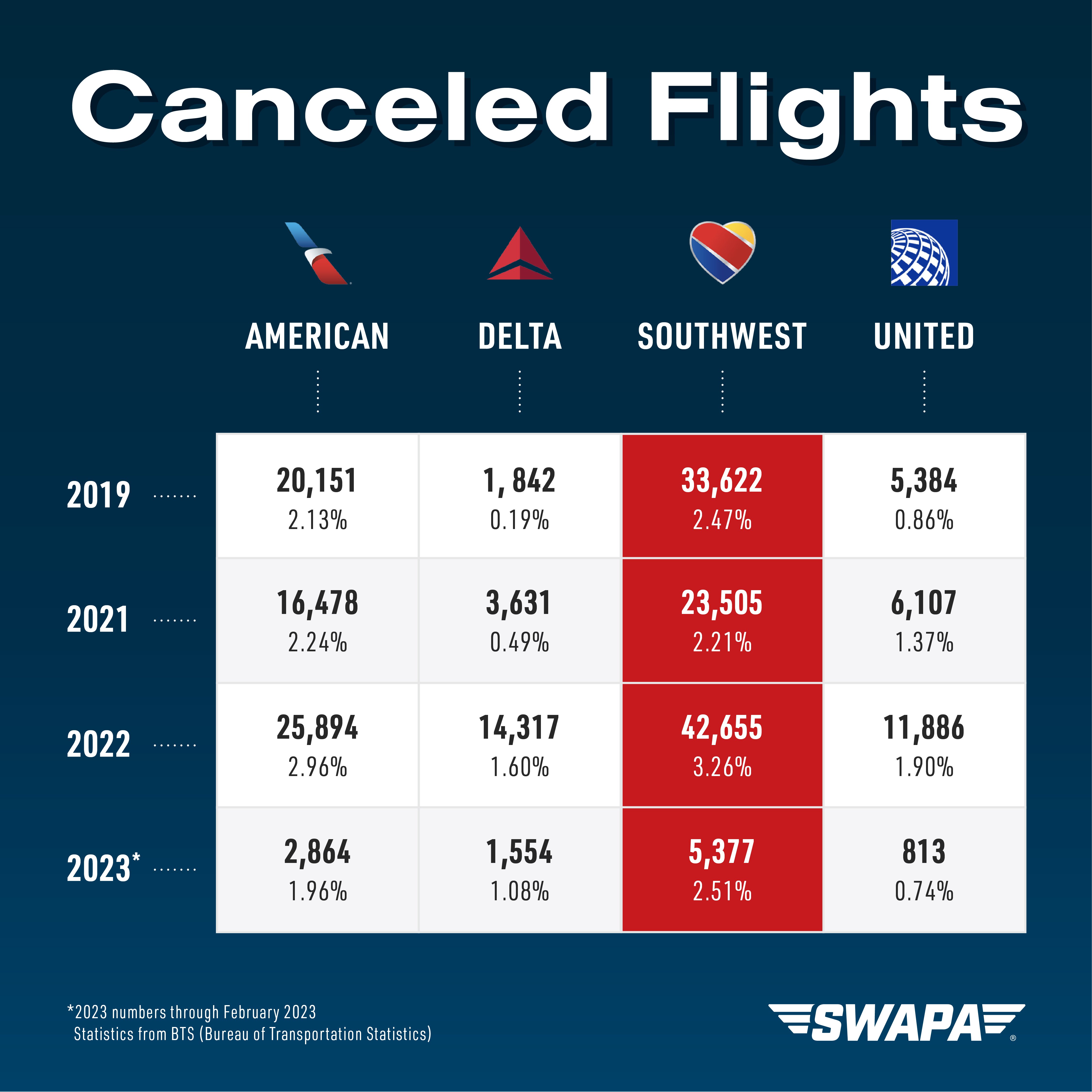 When will a strike happen?

 
The short answer is, we're not sure. It could be late summer or early fall depending on how the negotiation progresses in front of federal mediators. The National Mediation Board (NMB) controls any release of the parties from mediation prior to a strike. SWAPA is diligently following the process set out in the Railway Labor Act (RLA) which includes airlines like ours. Under the RLA, Southwest and SWAPA are legally bound to maintain the status quo of operations while in federal mediation. But ultimately, SWAPA is committed to following the Railway Labor Act to its natural conclusion, and that may include a strike. 
Our end goal is a new contract that will help our mutual interests as stakeholders in Southwest Airlines. Pilots and our passengers will benefit from scheduling processes that help rather than hinder the operation, and a contract that attracts and retains the most experienced, qualified, and safest pilot candidates.
Why are pilots unhappy?

 
Southwest Airlines pilots have been in contract negotiations for nearly three-and-a-half years with no meaningful progress. We have been in federal mediation since September 2022. Our pilots have said loudly and clearly with the recent Strike Authorization Vote that enough is enough.  
Our

pilots

have surrendered

 

ten

s

of thousands of days off

against their will

to cover an oversold schedule and a broken crew scheduling department. 

 

Our

pilots

have been force

d

to leave

in record numbers to seek

 

better career

oppor

tunities

at

 

our competitors

. (You

de

serve to have the safest, most experienced pilot flying

your family

, don't you?)

 

At the start of this year, o

ur

m

anagers

pocketed millions in bonuses

within days of

cutting

our

employees'

profit-sharing by half

due to

the worst

operational

meltdown in the history of U

.

S

.

commercial aviation

.

 

Our pilots have seen z

ero raises in the wake of record inflation,

deteriorating work

conditions

,

and increasing cost of living

away from home

.

 

Our p

ilots

have been

scheduled

for

increasingly

longer

duty

days

 

and shorter rest periods

, resulting in record

fatigue calls and

consequent

schedule disruptions

.

 
These are just a few of the conditions that have pushed the pilots of Southwest Airlines to decide that a strike is a necessary option. Should the National Mediation Board release our pilots to self-help, Southwest pilots will conduct a strike.  
You deserve a better Southwest Airlines experience and so do we.  
Are You Frustrated With Southwest Too?
Click here to send an email to SWA's Customer Complaint department and let Southwest know that it's time to make things right.